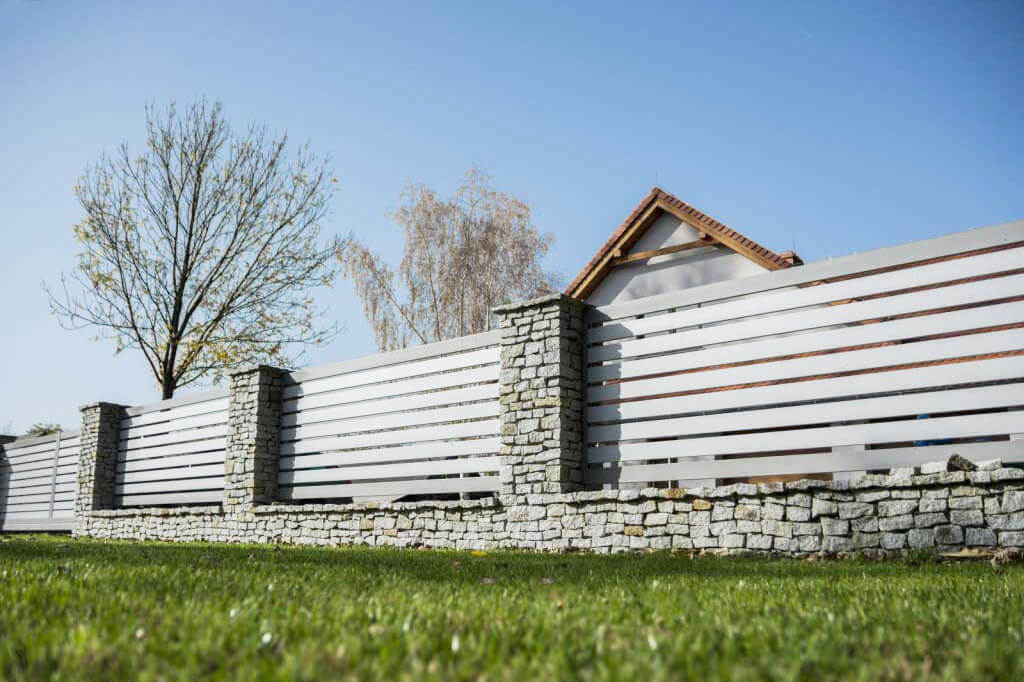 3
A front fence is a kind of showcase for your property. It's the first thing your guests and passersby see. The fence should serve a protective purpose but also a decorative one. Are you wondering what type of front fence to choose and which kind of enclosure will meet your expectations? Make sure that, in addition to providing a sense of security, it also pleases the eye. Here are a few suggestions that will assist you in making a decision.
Modern Design and Privacy, Enter Aluminum Fencing with Customization
If maintaining privacy and maximum isolation, such as from a busy street, is important to you, consider selecting a louver or aluminum fence. These often come in the form of bays constructed from profiles of varying heights. Naturally, you can adjust the spacing of individual profiles to your needs, creating unique arrangements. Non-transparent louvered fences are a modern solution that works excellently as a front fence, providing privacy cherished in today's times for aficionados of unconventional design.
Decorative, Modern Front Fencing Made of Gabions
What should you choose if, in addition to protection, the decorative aspect is also essential? Do you want your fence to be minimalist, tasteful, and at the same time harmonious with nature? In that case, a great solution would be to combine palisade fencing in a louvered form, which isolates you from the outside world, with decorative gabions. A gabion is a metal structure filled with various materials for reinforcement. The most popular materials are granite slate, basalt, and pebbles.
You can fill the entire gabion with a single type of stone or attempt to create colorful layers or decorative mosaics. The only limit is your imagination. Gabions can be filled with almost any type of rock material – broken sandstone, limestone, granite cubes, pebbles, ordinary field stones, and volcanic rocks. Brick, colored concrete, or recycled glass are also great for filling gabions. Thanks to various finishing methods, such fencing will fit perfectly into the landscape you're creating in your garden, and it will be unique.
Palisade Fencing for Classic Enthusiasts
Are you the owner of a classic single-family home? Do you value a family atmosphere, and your garden is the center of social gatherings, and you don't want to completely isolate yourself from the rest of the world? In that case, the ideal solution would be to install classic ornamental bays at the front, which harmonize well with both stone walls and metal pillars. In today's times, the delicate ornaments and lightness that such fencing imparts highlight the familial nature of the property. You can choose from numerous patterns and colors, allowing you to match the fence to your preferences. Moreover, for palisade fencing, you can easily find a double-leaf or sliding gate made in the same system, creating a coherent whole. Importantly, modern bays can also be made from lightweight yet durable aluminum, underscoring the uniqueness of your property.
In our offer, you will find a wide range of aluminum fences; you can see them all here: aluminum fences.
Attractive Price and Solid Execution – Embossed Panels
If you're after a quick and budget-friendly property fencing solution, you can opt for embossed panel fencing. This type of industrial fencing works excellently for enclosing residential buildings. Among its main advantages are lightweight construction, solid execution, and an attractive price. On its own, this type of front fencing doesn't possess a decorative function, but like with palisade fencing, you can combine it with decorative gabions. For a better effect, you can also mount panels on a prefabricated decorative base.
The front fence will serve you for years, and it will be the first thing you see when returning home. Ensure it meets your expectations and, in addition to a sense of security, serves as a decorative element.