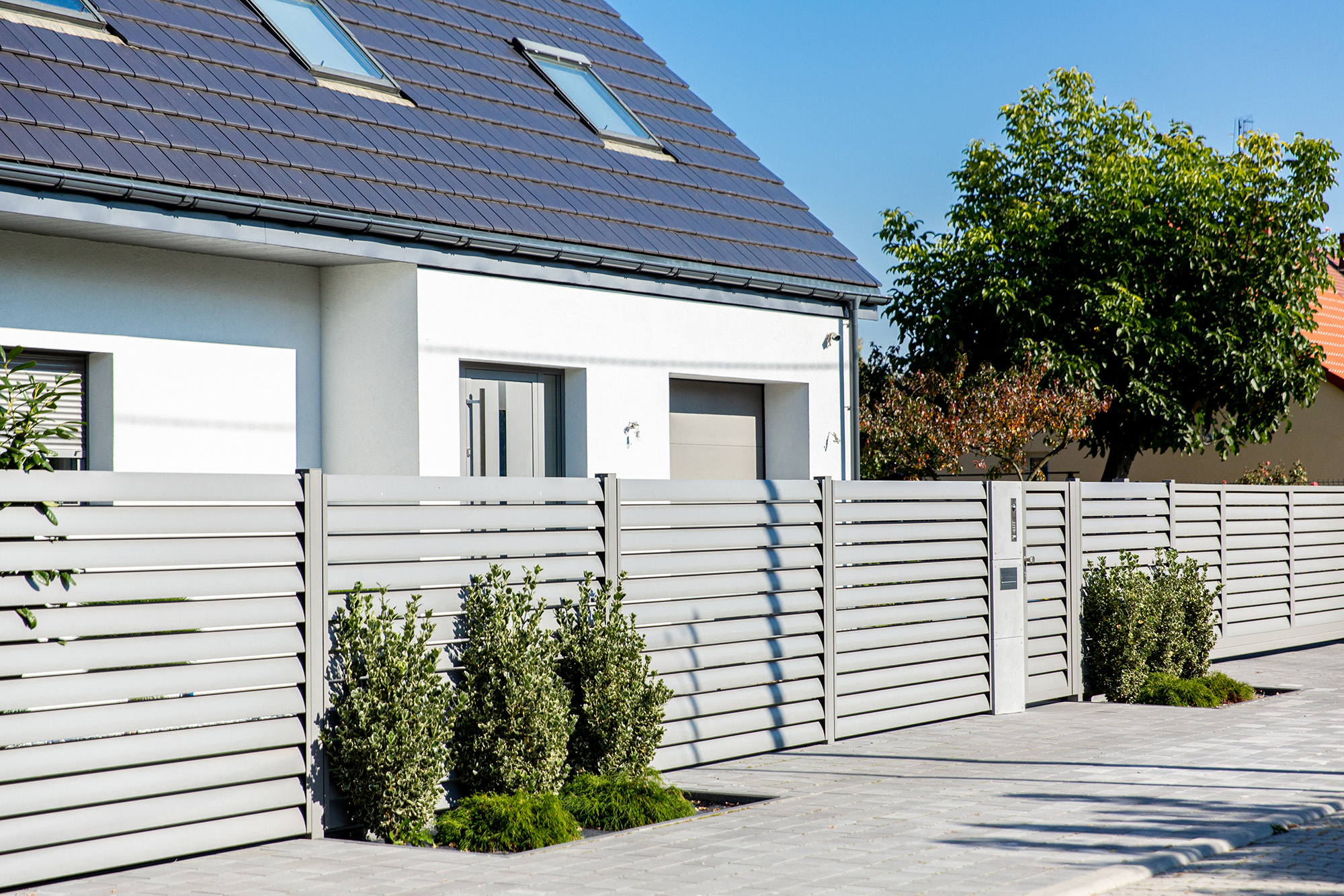 2
Choosing a fence is a challenging task, especially when we want it to serve both security and representational purposes. When the fence needs to be both safe and attractive, opting for palisade panel fencing is a wise decision.
These fences come in various designs and are exceptionally sturdy. But when to choose vertical palisade fencing, and when horizontal? Let's find out.
Key Features of Palisade Fencing
Palisade fencing is a popular choice for both private properties and industrial areas. Primarily due to its durability and cost-effectiveness. Fence panels are crafted from special galvanized and powder-coated steel profiles, or powder-coated aluminum profiles. This makes them resistant to rust and ensures longevity. Thanks to its robust structure, palisade fencing can be installed directly on a foundation or above the ground.
When Is Palisade Fencing a Good Choice?
Palisade fencing is an excellent choice wherever a fence needs to serve as both protection and ornamentation. With various panel designs available, they can be perfectly matched to the style of the house. Palisade fencing looks even better when combined with a foundation or modern gabions. Matching gates and wickets can be easily selected. The use of highly durable materials and additional protective measures make palisade fencing a great investment for those seeking long-lasting results.
Vertical or Horizontal Palisade Fencing? Which to Choose?
When opting for palisade fencing, one must decide whether the profiles in each panel should be arranged vertically or horizontally. Contrary to appearances, this decision isn't solely about aesthetics. For instance, due to the densely packed horizontal profiles, horizontal fencing tends to be sturdier and more resilient. On the other hand, vertical fencing is usually lighter, making installation easier.
Vertical Palisade Fencing
When is vertical palisade fencing a better choice? Aesthetically, it is more suitable for homes with a retro style, especially when embellished profile ends are used. This design perfectly complements a pre-fabricated or brick foundation. Vertical palisade fencing also works well for multi-story homes or those with steep roofs.
Horizontal Palisade Fencing
When is horizontal palisade fencing preferred? This choice harmonizes excellently with modern architecture. Palisade fencing with horizontally arranged profiles is an ideal fit for properties with a simple-shaped house, preferably with a flat roof. The minimalist horizontal profiles are versatile enough to be combined with other materials. They pair wonderfully with gabions and concrete panels.
Choosing the Right Fencing
The choice of fencing matters not only in terms of aesthetics but also security. For those prioritizing protection against intruders, vertical palisade fencing is a better option, especially if adorned with decorative elements. It's important to note that, according to regulations, fences lower than 1.8 meters must be securely finished.
For homes where horizontal fencing complements the style, ensure that the profiles are closely packed. Otherwise, the fence panels could serve as an unintended ladder for unwanted guests. Fences composed of small-spaced, shutter-like metal panels not only deter intruders but also shield the property from prying eyes.
In summary, both horizontal and vertical palisade fencing offer distinct advantages. Vertical fencing excels at safeguarding the property from unauthorized access and even wildlife. Meanwhile, horizontal fencing with shutter-like profiles ensures stability and creates a private ambiance on the premises.