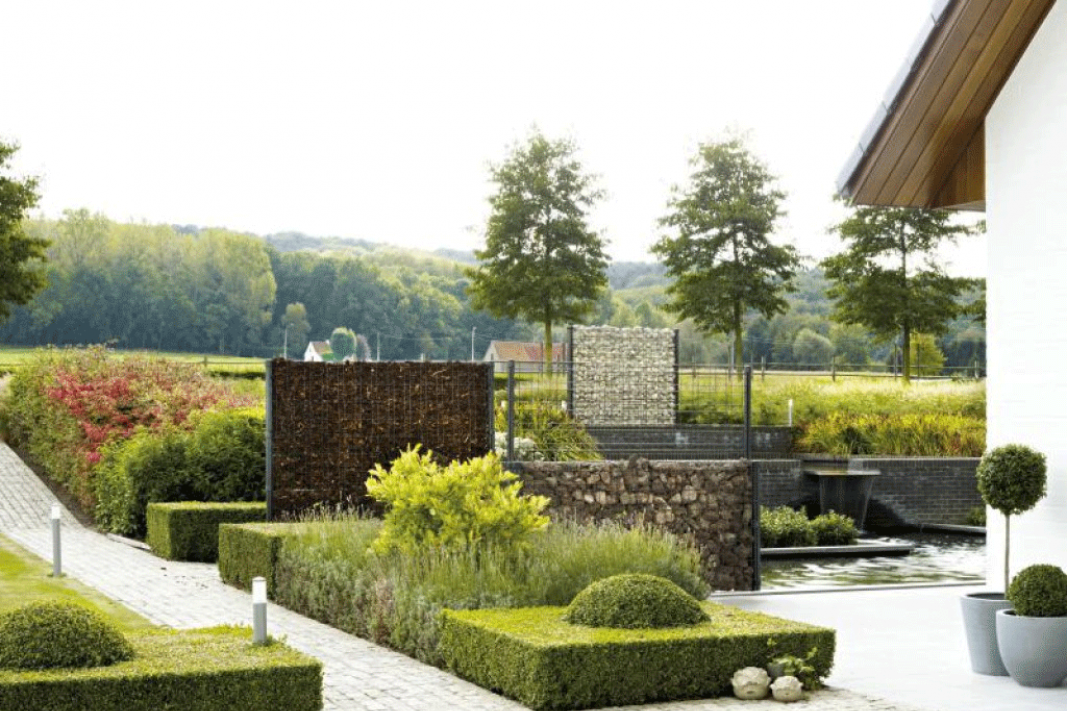 3
Dreaming of a fence that stands out in the neighborhood? Read about our ideas for creative and unique combinations of fencing materials. Even a simple wire mesh or picket panel fence can look fantastic with a bit of modification. How can you achieve this? Here are some inspirations:
Glass-Filled Gabion Fence
For an interesting effect, consider using gabions for your home's fence. While these are typically filled with granite, basalt, or pebbles, you can opt for glass instead of stones for a distinctive look. Crushed glass aggregate works well for this purpose. You can fill the entire gabion structure or just a portion of it. Keep in mind that a fully glass-filled gabion fence might be quite transparent, which could be both intriguing and challenging.
When using glass-filled gabions, consider illuminating the fence. Light streams easily through the semi-transparent pieces of glass, creating a unique visual effect, especially at night. The overall look can be enhanced by using colored glass for the filling.
Combining Gabions with Louvered Panels
Combining different materials can yield fascinating results. If you like classic solutions but want your fence to stand out, consider mixing gabions with louvered panels.
A fence made of metal louvers arranged like blinds offers maximum privacy. However, it might appear overwhelming when dark and not very transparent. To lighten its appearance and add uniqueness, install gabions between the panels. Metal cages filled with white pebbles create contrast and an exceptionally original appearance.
You can position the gabions between the panels or even beneath them, creating an aesthetic base.
Picket Fence Combined with a Hedge
If you appreciate greenery, this idea is for you. Pairing a traditional picket fence with a hedge is not entirely new, but with a touch of imagination, it can become remarkably original. To achieve this, use lesser-known plant species. For instance, consider the intensely red leaves of berberis thunbergii or the silvery-blue needles of the blue barrow juniper.
The arrangement of the panels and the hedge matters. Divide your space by strategically placing the hedge where you need more privacy. Not only will the hedge shield you from prying eyes, but it will also help muffle noise. Install picket panels where you desire transparency. To maintain harmony, you can plant small shrubs like boxwood or cotoneaster near the panels.
Aluminum Panels with Concrete Slabs
Do you admire fences made of architectural concrete slabs? It's undoubtedly a modern choice. To enhance the effect, combine concrete slabs with aluminum panels. This way, you can create color and texture contrast. Smooth, black, or graphite aluminum panels harmonize well with rough, gray concrete. The result is a modern and remarkably interesting appearance.
Adding an aluminum-covered roof above an aluminum gate is an excellent complement to the fence. Ensure that you maintain contrast even in this aspect.
Unconventional Colored Panel Fencing
Who said fences have to be gray or black? Experimenting with colors can make even a simple wire mesh fence look remarkably unique. Fence panels are typically hot-dip galvanized or galvanized and powder-coated in various colors from the RAL palette. For houses with plots, green and brown panels could be a great fit, especially when accompanied by diverse plants. Red or yellow panels could create an even more intriguing appearance, but this is a choice for the bold.
Aluminum panels can be ordered in two colors. For a modern touch, combine white and gray. If you have a garage gate in a unique color, consider getting an aluminum fence with one or two slats painted in the gate color. This way, you'll create a distinctive and exclusive fence pattern. You can also order panels with a wood-imitating texture, which inherently looks very original.
For more fencing inspirations, check our projects section. There, you'll find our latest works and the most current trends in property fencing.