The full fence model made of solid aluminum sheet is a perfect blend of elegance, functionality, and a unique appearance. It not only provides a sense of privacy but also acts as an effective barrier, deterring trespassing on the property.
Each element of the fence is crafted from 2 or 3mm thick sheet metal, and for more demanding clients, even 4mm thickness is available, all tailored to the dimensions you choose. With powder coating available in any RAL color, we can customize the fence to match your individual taste and property style. The absence of visible fastenings gives the fence an exceptionally aesthetic and modern look. The sheet metal is installed on both sides, ensuring an attractive appearance from both the outside and inside perspectives, making it beautiful and elegant from any viewpoint.
We manufacture the fence in our company near Wrocław using high-quality Polish aluminum. This allows us to guarantee a solid execution of each element. The fences are made to measure, which means we adapt them to any height and width to perfectly fit your property.
Our offer includes a wide range of RAL colors, giving you the opportunity to choose the ideal shade that complements the rest of the architecture.
Thanks to the option of full automation, our fences serve not only as a stylish element of your property but also as a practical solution. Effortless opening and closing of the gate or wicket, remotely controlled via a smartphone from anywhere in the world, provide convenience and security.
The aluminum used requires no maintenance or special care, allowing you to enjoy a beautiful fence without spending time on its upkeep.
This model of modern and minimalist full fence is also an excellent way to enhance the prestige of your property. Perfect for discerning customers who value solid craftsmanship and luxurious products. Our fences offer not only functional protection but also an elegant finishing touch.
We provide a 5-year warranty for our fences.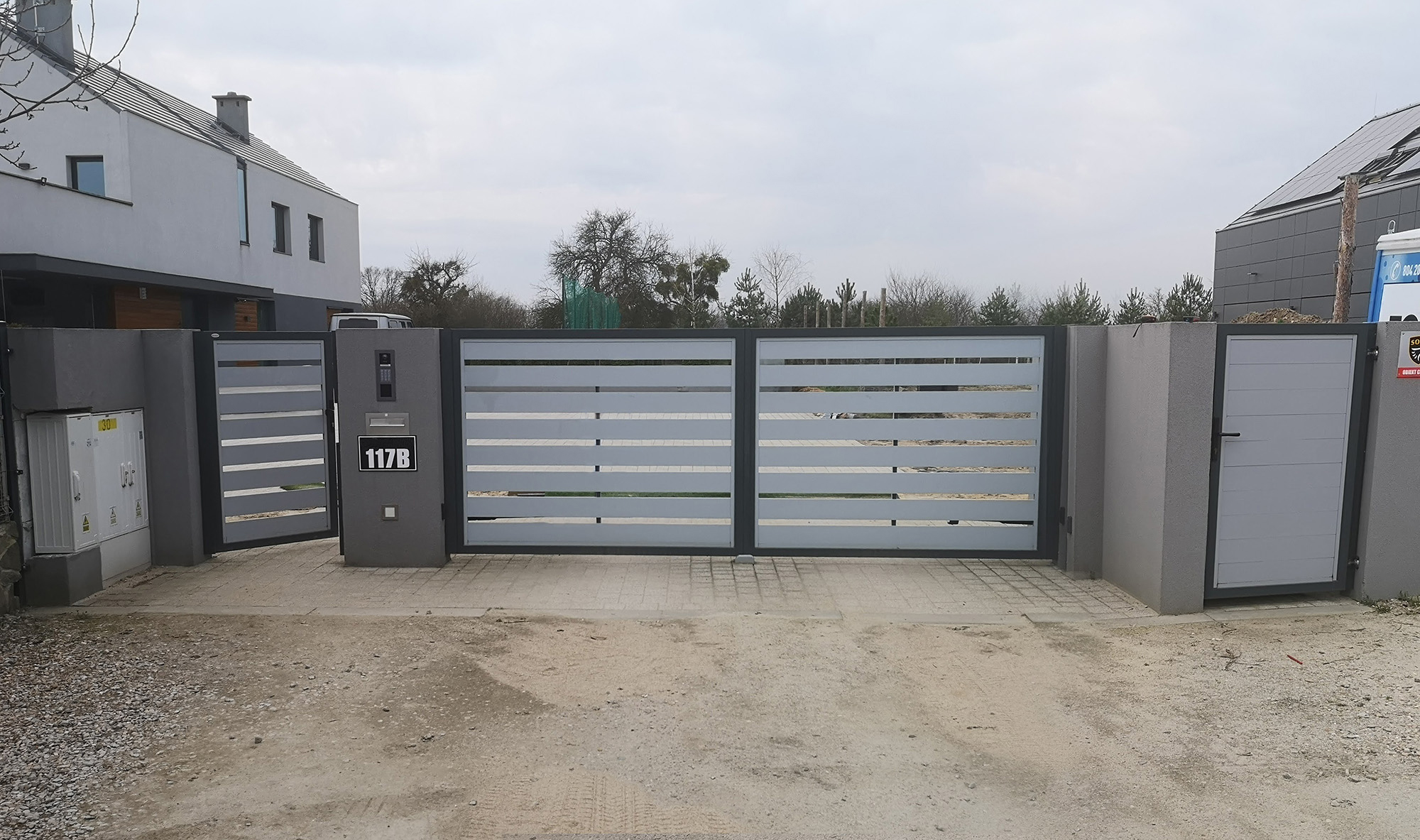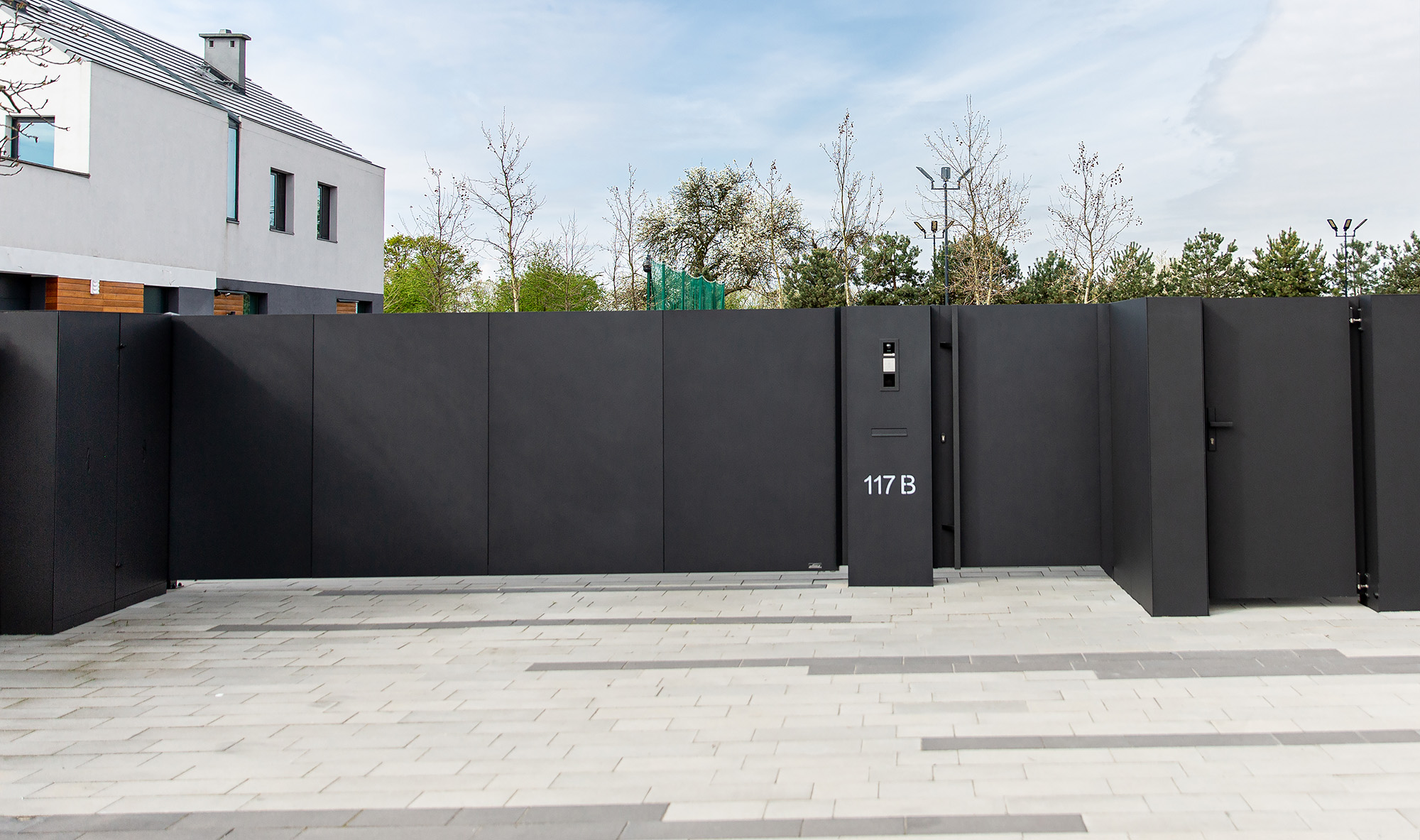 Standard Color Versions (full RAL color palette available for an additional fee)
RAL 7016SM Anthracite grey metalizing structure
RAL 8017 MAT Chocolate brown
RAL 9016 MAT Traffic white
RAL7016DS Anthracite grey fine structure
Fence gate
A gate made of 3mm thick aluminum sheet, double-sided.
The set includes the gate, 4 or 6 complete hinges (depending on the gate's size), fittings (handle, knob), latch, and 2 hinge covers.
The gate is complete and ready for installation.
Optional:
Electric latch – 270 PLN gross Handle 140 cm INOX or in color – 1000 PLN Handle 80 cm INOX – 250 PLN Hinge posts – 450 PLN gross.
Price:
od 5366 zł brutto/m2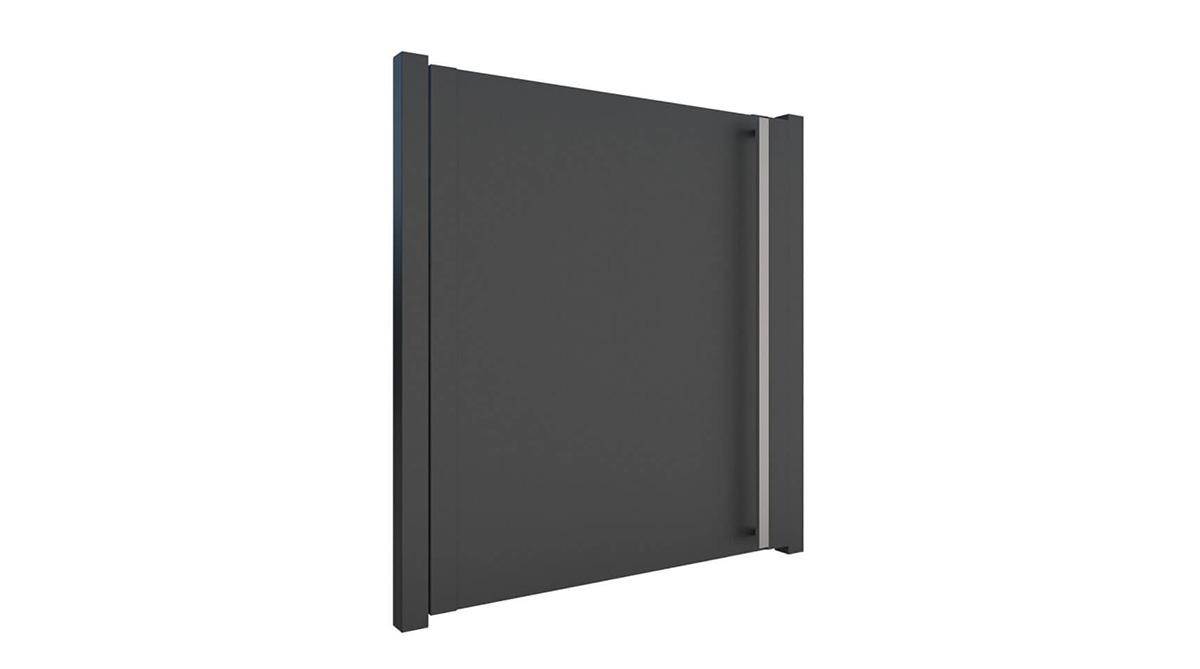 Sliding gate
A sliding gate made of 3mm thick aluminum sheet, double-sided. The steel rail is 80mm or 120mm, depending on the gate's size, optionally available in aluminum.
The gate is complete and ready for installation, and there are no visible fastenings.
Optional:
Locking post – from 340 PLN gross Aluminum sliding rail – 540 PLN for 1 meter Full automation system by Came, individually selected for the model (kit includes: automatic gate opener with magnetic limit switches, 2 remotes, 2 photocells, LED warning lamp, signal-boosting antenna to extend remote control range) – price from 3028 PLN gross.
Price:
Od 4453 zł brutto/m2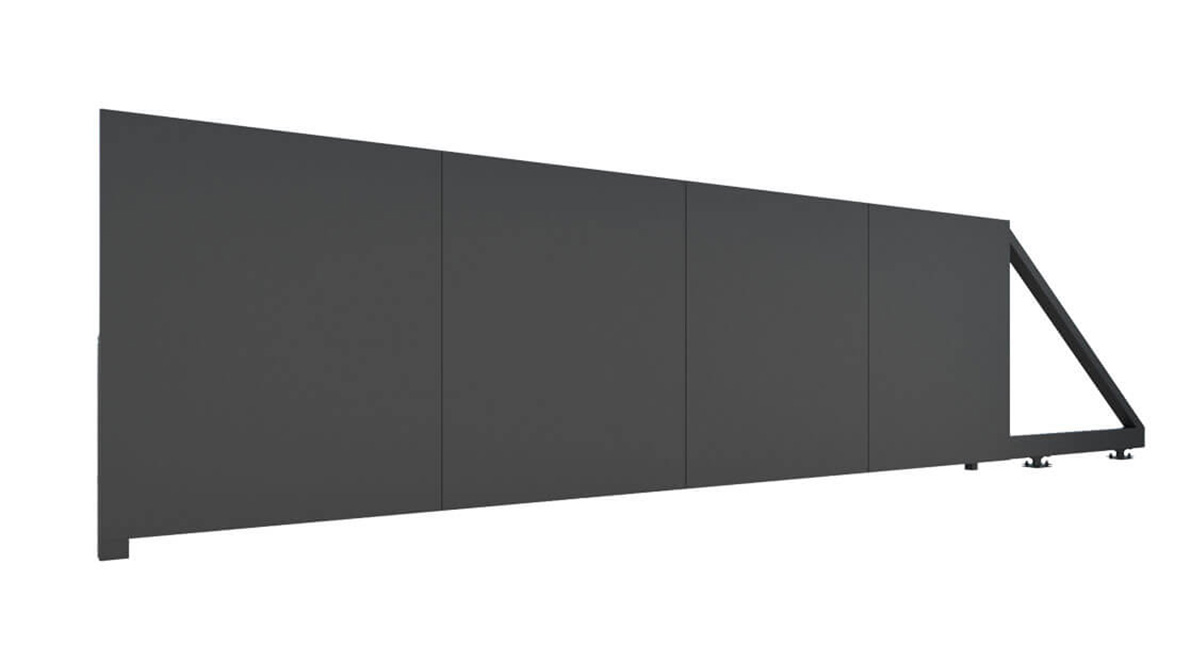 Fence panel
The structure is made of aluminum profiles covered with 2 or 3mm aluminum sheet. The sheet is mounted on both sides, ensuring an attractive appearance from the inside of the property as well. There are no visible fastenings on both the panels and gates.
The set includes posts, hardware covers, and mounting screws.
The panel is complete and ready for installation.
Price:
od 2214zł brutto/m2