Our latest and innovative product, the concrete panel fence, consists of high-quality prefabricated modules that offer not only an aesthetic look but also a solid structure.
The concrete panel fence is crafted from a combination of an aluminum framework clad with fiber-cement panels, mimicking architectural concrete. The modules have dimensions of 1200x2000mm, featuring a smooth surface, and their precise construction is highlighted by 10mm chamfers on the corners. The module thickness measures 200mm.
As an additional option for finishing the panels, we provide aluminum capping that adds a touch of elegance to the fence. The array of panel colors enables customization to match your home's style and surroundings.
Our concrete panel fence looks excellent with a 100mm spacing and when combined with the vertical aluminum posts of the AL27 model. This combination offers not only privacy but also an attractive appearance from both the front and back. Moreover, it acts as a barrier, enhancing security by deterring unauthorized entry.
We offer the flexibility to adjust the height and width of the fence according to individual customer needs. With its sturdy structure and absence of visible welds and fixings, the fence is not only durable but also exudes elegance from every angle.
It's worth noting that our fence perfectly complements gates and entryways made from solid sheet metal. This harmonious blend creates a cohesive look, adding sophistication and refinement to your property.
Investing in a concrete panel fence elevates the prestige of your property. Undoubtedly, this is a premium product that meets the expectations of even the most discerning customers.
Our robust construction, reliable automation, and luxurious finish will satisfy the demands of even the most discerning clients. We offer not only functionality and security but also aesthetic appeal, enhancing the uniqueness of your space.
We provide a 5-year warranty for our fences.
Standard Color Versions (full RAL color palette available for an additional fee)
Concrete panel fence
A wall made of a steel framework covered with fiber-cement facade panels, mimicking architectural concrete, along with aluminum coping on the sides and top. Standard width is 1290mm.
Price:
od 3075 zł brutto/szt.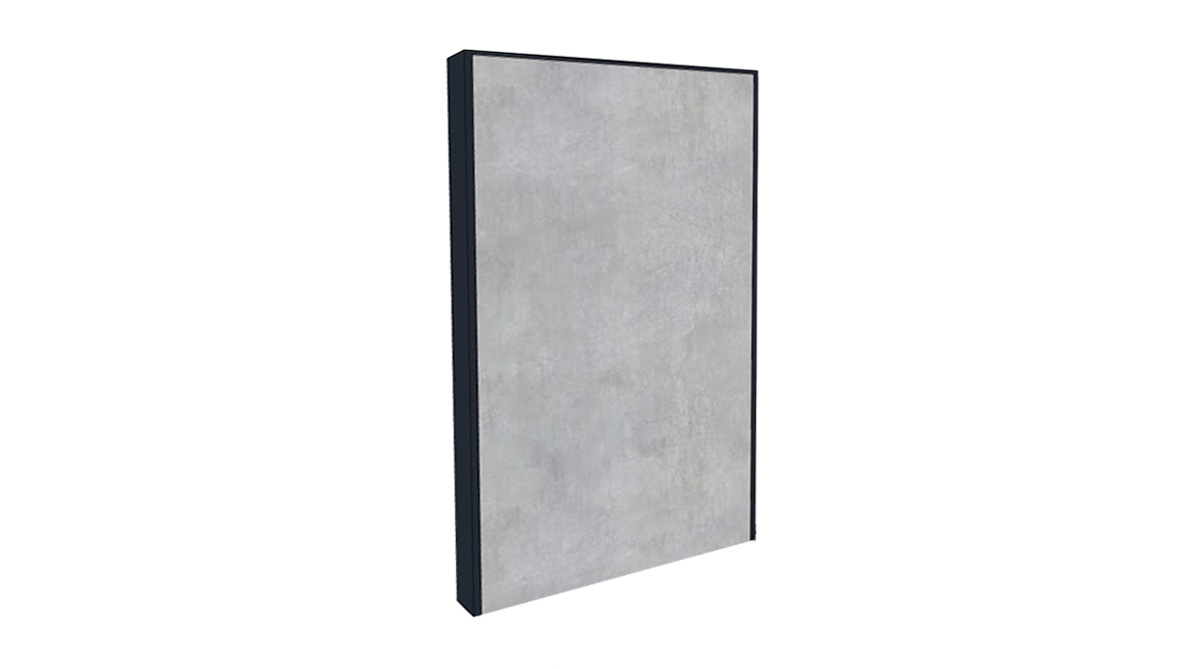 Sliding gate of solid sheet metal
A sliding gate made of 3mm thick aluminum sheet, fully solid on both sides. Steel track of 80 or 120mm depending on the gate size, optionally available in aluminum. The gate comes fully assembled and ready for installation.
Complete automation of the gate by Came is individually tailored to the model (kit includes: motor with magnetic limit switches, 2 remotes, 2 photocells, LED warning lamp, signal amplifier antenna – price starts from 3028 PLN gross).
Price:
Od 4453 zł brutto/m2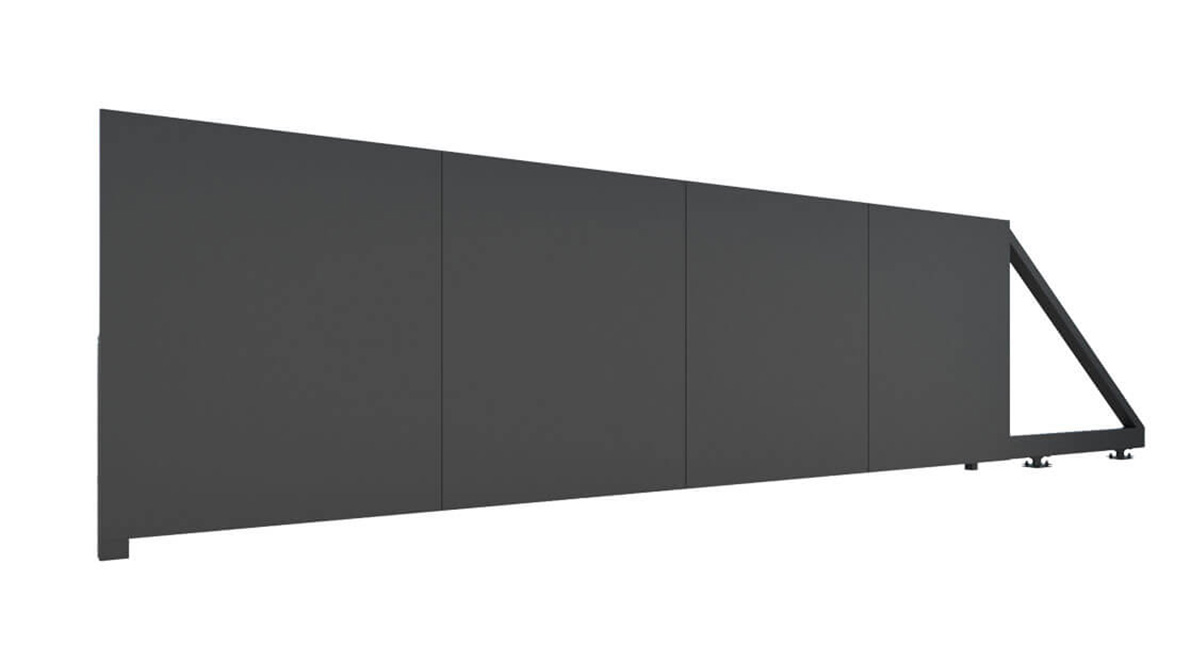 Gate of solid sheet metal
A gate made of 3mm thick aluminum sheet, fully solid on both sides.
The set includes hinges and masking blends, a lock with a key, stainless steel fittings, a one-sided handle, a one-sided lever, an electric latch, a latch, an insert, etc.
The gate is fully assembled and ready for installation.
Price:
od 5366 zł brutto/m2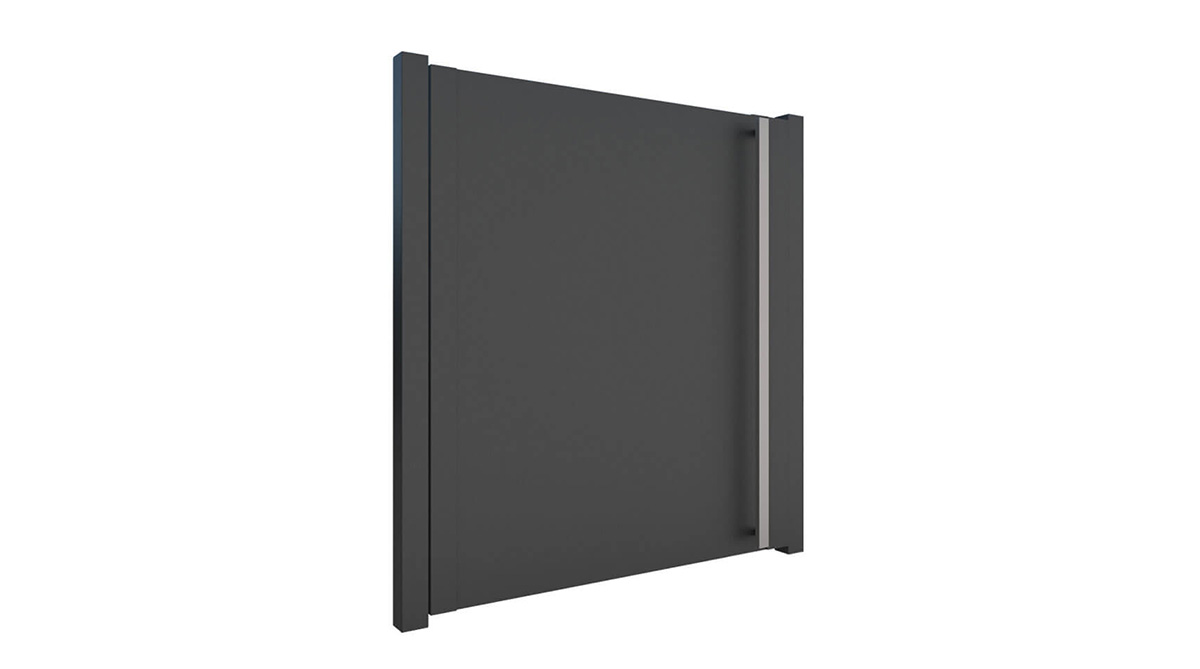 Fence panel AL 27
Panel made of aluminum profiles 100x150mm x 3mm spaced at 100mm or 80x60mm x 3mm spaced at 80mm, powder-coated in any RAL color. Adjustable spacing option. For height above ground, add +150mm for concealing the connection to the foundation.
Set includes: posts, aluminum post caps, complete bottom mounting system for concrete in 100cm modules.
The panel is complete and ready for installation.
Price:
od 1906 zł brutto/m2