Industrial gates with palisade filling offer a robust and reliable solution for your facility. In the package, you'll find not just the gate, but also the posts and a comprehensive guide-and-wheel set, including trolleys and rollers, ensuring smooth and trouble-free gate movement. Moreover, the gates are prepped for automation, allowing for easy control and convenience in everyday use.
As an option, we offer a hook lock or LOCINOX, providing additional security for your property. The hook lock ensures a high level of security, difficult to breach, protecting your premises from unwanted intruders. Additionally, the manual opening handle and automation facilitate gate operation, allowing for convenient and quick opening and closing without physical exertion.
Our industrial gates are corrosion-resistant, thanks to the use of high-quality materials and proper anti-corrosion techniques. This means that the gates will maintain their attractive appearance and functionality for many years, even in challenging weather conditions. Furthermore, their modern design adds aesthetics and professionalism to your property, highlighting its contemporary character.
Due to their versatility, these gates are suitable for various industries and types of facilities. Whether you need a gate for a warehouse, a production hall, or an industrial area, our solution will meet your expectations. Their sturdy construction and difficulty to breach provide maximum security for your property.
We offer our gates at an affordable price, ensuring high quality in a favorable quality-to-price ratio. It's an excellent investment that provides you with a durable and secure solution while also saving on costs. Our gates combine functionality, security, and aesthetics into one product, meeting the expectations of even the most demanding customers.
We provide a 5-year warranty for all our gates, fences, and panels.
Standard Color Versions (full RAL color palette available for an additional fee)
Sliding gate
The gate's structure is made from 60×60, 80×80, or 100x100mm profiles, depending on the width of the entrance. The gate is filled with 20×20 or 25x25mm profiles, hot-dip galvanized and powder-coated in colors from the RAL palette.
The set includes: gate leaf, posts, complete drive and guide set (carriages, rollers, catches), lock, prepared for automation, includes a toothed strip.
The price of the sliding gate varies depending on the height and width. Goods available on order. We provide a 5-year warranty on all our gates.
Full gate automation is individually selected for the model – price starting from 2460 PLN net.
Below are the prices for the most popular dimensions:
3000×1450 mm – 4039.84 PLN net / 4969 PLN gross
4000×1450 mm – 4739.02 PLN net / 5829 PLN gross
5000×1450 mm – 5926.02 PLN net / 7289 PLN gross
6000×1450 mm – 8421.95 PLN net / 10359 PLN gross
3000×1650 mm – 4064.23 PLN net / 4999 PLN gross
4000×1650 mm – 5389.43 PLN net / 6629 PLN gross
5000×1650 mm – 6739.02 PLN net / 8289 PLN gross
6000×1650 mm – 9576.42 PLN net / 11779 PLN gross
4000×1950 mm – 6178.05 PLN net / 7599 PLN gross
5000×1950 mm – 8942.28 PLN net / 10999 PLN gross
6000×1950 mm – 10730.89 PLN net / 13199 PLN gross
Price:
od 4039,84 zł netto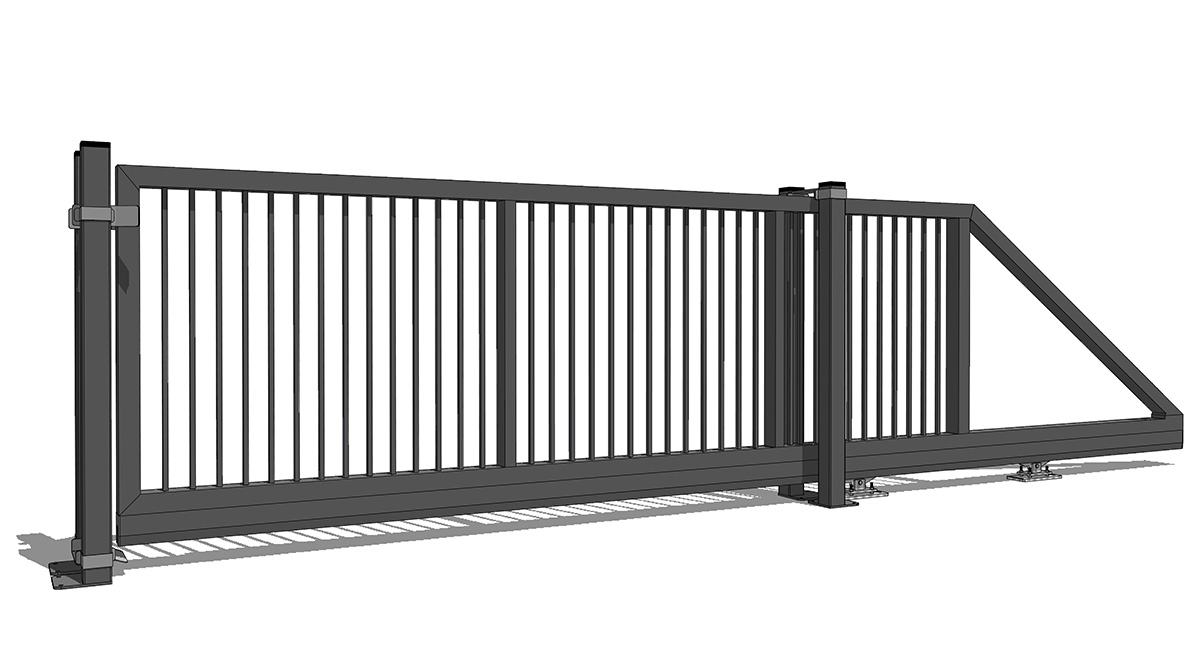 Gate
A gate filled with a panel featuring a mesh size of 50×200 mm, made from profiles of 40×40 mm or 40×60 mm depending on the size.
The set includes: posts of 80mmx80mm, 100×100 mm, or 120×120 mm depending on the size, hinges, lock, handles, levers, locking bolt. We provide a 5-year warranty for all our gates.
Below are the prices for the most popular dimensions:
1000×1200 mm – 982.93 PLN net / 1209 PLN gross
1000×1500 mm – 1072.36 PLN net / 1319 PLN gross
1000×1700 mm – 1137.4 PLN net / 1399 PLN gross
1000×1900 mm – 1226.83 PLN net / 1509 PLN gross
Price:
od 982,93 zł netto